Home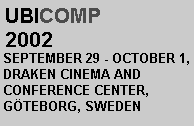 Introduction
ALL Presentations and Papers are Available Online on the Program Page!
Ubiquitous Computing seeks to move computers into the background while using them to enhance human endeavors. Nevertheless, will society accept and totally trust the security associated with background computational activities? Are there new security threats to person and property as a consequence of this successor to interactive computing? Can we seamlessly leverage current/ classical security concepts and solutions to an augmented world? Ubiquitous computing security research may still be considered a "hot topic", as there still remain some open questions. This workshop contributes to this field by bringing together professionals prepared to address and brainstorm over essential themes related to ubiquitous computing security including:
Ubiquity - Who has access to my resources and services? Issues for confidentiality, authorization, and access control.
Augmented Reality – How do we augment our risk management strategies to match augmented reality? Furthermore, can we exploit augmented reality in risk management?
Context Awareness - Who else knows where I am and what's going on around me? Matters for privacy and controlled information access including and beyond location.
Invisible Computer - Who am I interacting with and when? Defining suitable authentication and trust frameworks for ubiquitous computing.
Smart Items - But they're so small, can they protect themselves and who owns these things anyway? Analysis and classification of existing micro crypto-algorithms, as well as issues surrounding ownership, accountability, and non-repudiation.
Mobility and Portability – What happens to "end-to-end" security? Charting of IT landscapes and architectures representative of ubiquitous computing, and specification of goals for security.
Security versus the Disappearing Computer – How do we manage the tradeoffs presented here? How are the novel disappearing computer interaction substrates maintained when security is introduced?
Management of Augmented Environments – Identification of the management issues for ubiquitous systems and proposals for tools and utilities.
Social Awareness, Legislation and Education – Agreement on what message is to be delivered to society regarding security in ubiquitous computing environments, and how.
Expected Participants
Researchers in Ubiquitous Computing Security will have an opportunity to exchange ideas with other active researchers in this field.
Seasoned experts in Classical Security may transfer their expertise to the UbiComp domain of security research.
Software and hardware engineers of ubiquitous, mobile and embedded systems can contribute to discussions regarding real applications and the feasibility of proposed security solutions. They will also be involved in generation of further ideas for incorporating security into the design process.
Social Computing practitioners will assist in maintaining a balance between technical issues and security requirements for society.
Business visionaries will also add their expectations for Enterprise-level Ubiquitous Computing applications.
Application of Outcome
Presentation of outcome to UBICOMP2002 participants
Towards a reference model for Ubiquitous Computing Security
Specification of future work in the area of Ubiquitous Computing Security
Further Publication of Workshop outcome
Contacts
Refik Molva
Institut Eurécom
2229 Route des Crêtes, BP 193, F-06904 Sophia Antipolis
Cédex Phone: +33 (0) 4.93.00.26.12
email: molva@eurecom.fr
http://www.eurecom.fr/Corporate/Staff/molva.html
Joachim Posegga
SAP Corporate Research
Vincenz-Priessnitz-Str. 1, D-76131, Karlsruhe
Phone: +49 721 69020
email: joachim.posegga@sap.com
Philip Robinson
SAP Corporate Research & Tele-cooperation Office (TecO)
Vincenz-Priessnitz-Str. 1, D-76131 Karlsruhe
Phone: +49 721 690289
email: philip@teco.edu