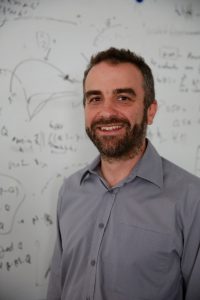 Till Riedel
Postal address

KIT TecO

,

Vincenz Prießnitz Str. 1

,

76131

Karlsruhe

,

Germany
Campus Address

Room 211, Bldg. 07.07

Email Address

Telefone Number
https://orcid.org/0000-0003-4547-1984
Current Activities
I am lab leader at TECO within the Chair for Pervasive Computing Systems of Michael Beigl and lecturer at the Karlsruhe Institute of Technology.
I lead our data science data scientist team within the state funded Smart Data Solution Center Baden-Württemberg that supports the Mittelstand in Baden-Württemberg.

I coordinate the nationally funded parts of Smart Data Innovation Lab, a Big Data competence center for research on industrial data.

I am currently serving the KIT Konvent, for which I am one of the employee representatives of the division supervisory board (Informatics, Economics, and Society).
Past Projects
I actively contributed to the following projects.
Together with my colleagues at TECO I coordinated this interdisciplinary project on airquality assessment. Our interdisciplinary and multimodal approach include citizen participation in Augsburg, which we chose as model region. We published millions of data points gathered there on the smartAQnet server.
Budde, Matthias, Andrea Schankin, Julien Hoffmann, Marcel Danz, Till Riedel, and Michael Beigl. "Participatory sensing or participatory nonsense? Mitigating the effect of human error on data quality in citizen science." Proceedings of the ACM on Interactive, Mobile, Wearable and Ubiquitous Technologies 1, no. 3 (2017): 1-23.
Budde, Matthias, Till Riedel, Michael Beigl, Klaus Schäfer, Stefan Emeis, Josef Cyrys, Jürgen Schnelle-Kreis et al. "SmartAQnet: remote and in-situ sensing of urban air quality." In Remote Sensing of Clouds and the Atmosphere XXII, vol. 10424, p. 104240C. International Society for Optics and Photonics, 2017.
My work on this project was focussed on a Developer Space for building assistive technology. Together with Gregg Vanderheiden I led the technical subproject. We further helped to evaluate how such resources can make a difference for developers and on development ecosystems.
Touliou, Katerina, Maria Gemou, Till Riedel, Maria Panou, and Evangelos Bekiaris. "A Framework for Evaluating the Implementers' Experience in Making Existing Products Accessible: The Prosperity4all Approach." In International Conference on Human Aspects of IT for the Aged Population, pp. 387-397. Springer, Cham, 2015.
Kocsis, Otilia, Gregg Vanderheiden, Ignacio Peinado, Eva de Lera, Lukas Smirek, Gottfried Zimmermann, Till Riedel, and Nadia Fendrich. "DSpace: An inclusive repository for cost-efficient development of accessible control interfaces." In 2016 IEEE Symposium Series on Computational Intelligence (SSCI), pp. 1-8. IEEE, 2016.
Our work in TIMBUS (Timeless Business Processes and Services) was focussed on capturing the context to describe the implicit risks to trigger preservation actions on real world processes (such as maintaining a damn).
I participated for the KIT in the BmBF leading inovation project Aletheia dealing with information federation from the Internet of Things. Using a model driven generative aproach I designed platform independent gateway technology to include IoT device into Web Service based environments. In close collaboration with ABB we applied this technology to an industrial servicing use case.
M. Wauer, J. Meinecke, D. Schuster, A. Konzag, M. Aleksy, T. Riedel, "Semantic Federation of Product Information from Structured and Unstructured Sources" IJBDCN 7(2): 69-97 (2011)
T. Riedel, N. Fantana, A. Genaid, D. Yordanov, H. Schmidtke, M. Beigl, "Using Web Service Gateways and Code Generation for Sustainable IoT System Development",Internet of Things 2010 – Second International Conference for Academia and Industry (IOT2010), 2010
Before that I lead TecO's work in the EU Future Emerging Technologies Project RELATE investigating sensing technologies and systems appropriate for relative collaborative positioning. In such a system, small, wireless objects perform peer-to-peer sensing and produce relative location and orientation estimates without relying on pre-existing infrastructure. The technology was applied in a real world use case to support the navigation of firefighters under bad sight conditions.
H. Gellersen, P. Lukowicz, M. Beigl, T. Riedel, "Cooperative Relative Positioning", IEEE Pervasive Computing, 2010. IEEE computer Society Digital Library. IEEE Computer Society
Klann, M., T. Riedel, H. Gellersen, C. Fischer, M. Oppenheim, P. Lukowicz, G. Pirkl, u. a. 2007. "Lifenet: an ad-hoc sensor network and wearable system to provide firefighters with navigation support". Demo Ubicomp 2007
I started at TecO working EU FP6 Project CoBIs (Collaborative Business Items) that was working on the integration of several sensor network platforms in a service based architecture for business processes.
M. Marin-Perianu, N. Meratnia, P.J.M. Havinga, L. Moreira Sá de Souza, J. Müller, P. Spiess, S. Haller, T. Riedel, C. Decker, G. Stromberg, "Decentralized Enterprise Systems: A Multi-platform Wireless Sensor Networks Approach". IEEE Wireless Communications, 14 (6). pp. 57-66. ISSN 1536-1284, 2007
T. Riedel, C. Decker, P. Scholl, A. Krohn, M. Beigl. "Architecture for Collaborative Business Items" 20th International Conference on Architecture of Computing Systems, Zurich, Switzerland, Springer LNCS 4415, pp. 142-156, 2007
Further project involvement
Short CV
2015- Lecturer (Akademischer Rat) at KIT
2010- Research (Co-)Director @ TecO
2012 PhD at the computer science faculty of the Karlsruhe Institute of Technology/li>
2005 Diploma in computer science at the University of Karlsruhe
Publications
I recently co-authored a book on Smart Data Analytics
For cross-linked lists of my publications you may also refer to these external links:
If you need a copy of a paper you cannot find there please simply contact me directly via email.