April 18th, 2017 | Published in Research
Air quality and the associated subjective and health-related quality of life are among the important topics of our time. However, it is very difficult for many cities to take measures that to accommodate today's needs concerning e.g. mobility, housing and work, because a consistent data base with fine-granular data and information on causal chains is missing. This has the potential to change, as today, both large-scale basic data as well as new promising measuring approaches are becoming available.
Project "SmartAQnet" is based on a pragmatic, data driven approach, which for the first time combines existing data sets with a networked mobile measurement strategy. By connecting open data, such as weather data or development plans, remote sensing of influencing factors, and new mobile measurement approaches, such as participatory with ultra-low sensor technology, "scientific scouts" and demand-oriented measurements by light weight UAVs, a novel measuring and analysis concept is created within the model region of Augsburg. In addition to novel analytics, a prototypical technology stack is planned which, through modern analytics methods and Big Data and IoT technologies, enables application in a scalable way.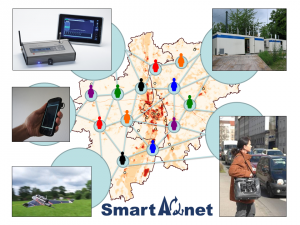 SmartAQnet is funded by the German Federal Ministry of Transport and Digital Infrastructure (BMVI): www.mfund.de
Project Website
Participate
SmartAQnet organized two Citizen Science workshops in 2019 to build fine dust sensor nodes.
Open Data / API
The Data can be viewed here.
Further Information
Start/End
04/2017 – 09/2020 (running)
Partners
Institute of Meteorology and Climate Research, Atmospheric Environmental Research, Karlsruhe Institute of Technology (IMK-IFU)
German Research Center for Environmental Health, Helmholtz Zentrum München (HMGU)
Institut of Geography, University of Augsburg
GRIMM Aerosol Technik GmbH & Co. KG
Aerosol Akademie e.V.
Umweltamt, Stadt Augsburg
Research topics
Air Quality
Environmental Sensing
Big Data Analytics
Mobile Computing
Modeling
Contact
Selected Publications
[mendeley type="groups" id="8c337d2b-91fd-3f04-9db0-60b09db9bea4″ filter="tag=project:smartaqnet" sortby="year" sortorder="desc"]